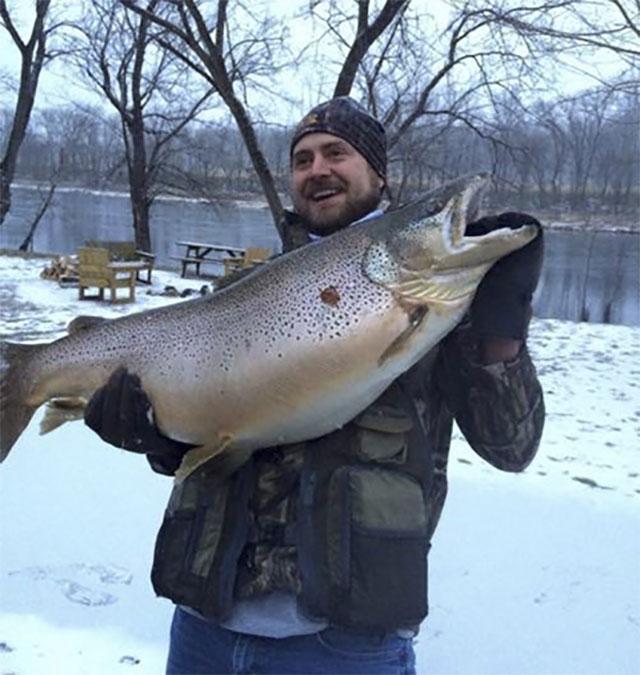 COTTER, Ark. – Arkansas is known for having some of the biggest Brown Trout in the world – and to confirm that, all you need to do is ask Kansas angler Calvin Johnston, who caught a monster 38 lb Brown Trout on Friday, February 27th in the White River.
This was Johnston's first trout fishing trip to Arkansas, and not only was the trip something he will never forget, it will have people up and down the White River talking about this epic fishing story for years to come.
The sun was setting, and that's when the monster brown hit his line, and nearly took all of his line on the first run. He said he's never faught a fish like this before, and battled it for at least 30 minutes. Johnston didn't have a net or any waders, so he yelled for help, and that's when another fisherman came by to see what all the comotion was, and when the othe fisheman saw the massive brown surface - he couldn't belive his eyes! He quickly grabbed a net and helped Johnston bring in the Monster Brown Trout onto the shore.
Its official weight and length is 38 pounds, 7 ounces, and is 36.6 inches long. This is the biggest brown ever recorded on the White River, and is the third largest brown recorded in the state of Arkansas.
Johnston used the same rod and setup to drop-shot for bass, and used a medium-light six-foot, nine-inch spinning rod with 15-pound-test braid tied to a 10-pound-test fluorocarbon leader. Johnston said he's a Bass fisherman, and rarely goes fishing for trout, but that is soon going to change!