Seared Walleye Recipe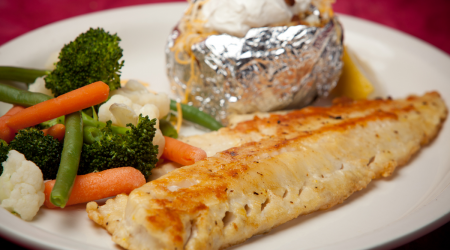 Here is a great family recipe for cooking walleye that is simple to make, but has a unique and robust flavor. Next time you catch a walleye, give this recipe a try, and we're confident you'll start cooking your walleye like this going forward.
Ingredients:
Walleye Fillets (4-6 medium sized fillets [15-20" fish] feed two people)
Olive Oil
2 Tbsp. Apple Cider Vinegar (this gives it a unique and robust flavor)
Pam Cooking Spray
1 Tbsp. Dried Thyme
1 Tbsp. Dried Parsley
1 tsp. Garlic Powder
1 Tbsp. Season-All Seasoning Salt
1 Tbsp. Pepper
How To Prepare The Meal:
The first step is to oil the frying pan with olive oil - you can use any preferred type of oil, but we recommend olive oil. Make sure you have just enough oil to cover the bottom of the pan. We are not going to coat the fish, so there is no need to use a lot of oil.

Heat the oil on medium heat for around 3-5 minutes before adding your walleye fillets. During this time, mix your seasonings together in a bow. Then it should be time to add the fillets to the pan, after you've put the fillets in the pan, preheat your oven to 400 degrees.

While the walleye fillets are being seared on one side, grab the bowl of seasonings, and sprinkle half of the seasonings over the walleye. Cook for five minutes, flip, and then repeat the seasoning. Cook for an additional five minutes on the other side.

After the fish has been cooked on both sides for five minutes each, drizzle the apple cider vinegar over the fish, but this is key only do it for one side. Then turn the heat to medium high for about two-three minutes. This step reduces and lightly caramelizes the vinegar to give it that unique flavor.

While you are waiting for the vinegar to reduce, coat the baking sheet with cooking spray.

Add the fish to the baking sheet and finish in the oven for approximately five minutes. Take the fish out of the oven and we recommend you serve over rice or vegetables with your favorite side. And that's it, see, simple enough! We hope you enjoy your meal!
I love fishing for walleye, and walleye is one of my favorite fish to prepare and eat. Hopefully you'll enjoy this recipe. Give us your feedback, and share with us some of your fish recipes.